Dark Horse Private Wealth: Our Process
What does building your wealth look like when you partner with Dark Horse? After getting to know you, we start tightening the reins so you can begin seeing progress right away. And then we keep you on track year-over-year.
Get Started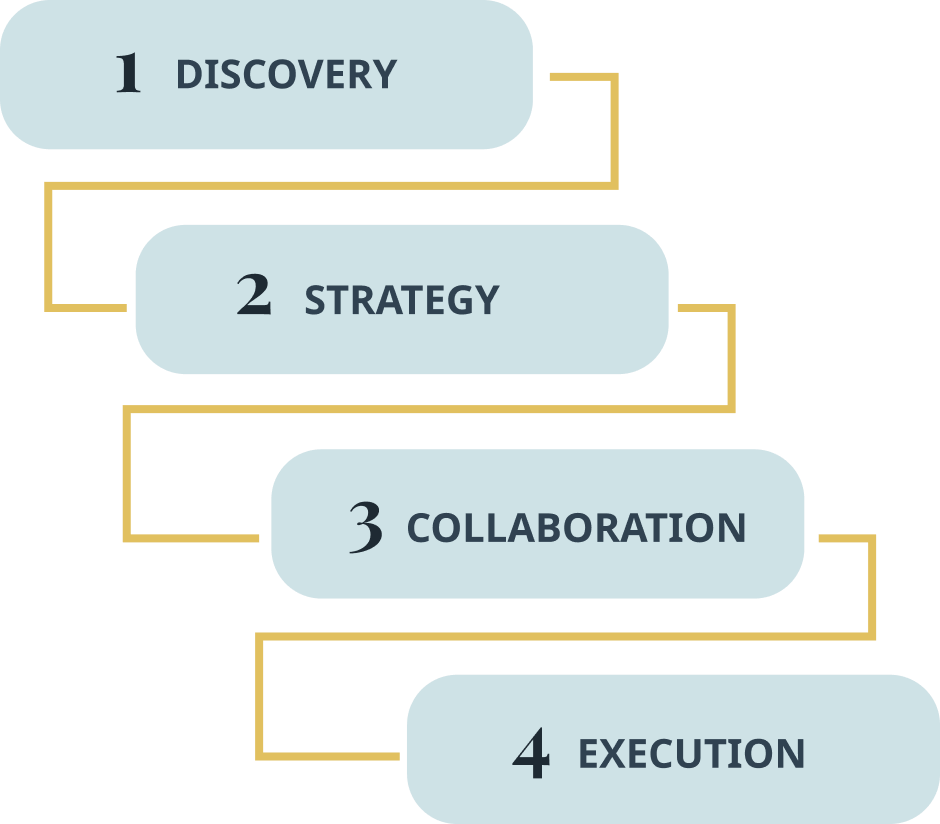 Getting to Know You
Who – You and Dark Horse Private Wealth Team
Upon introduction from your Dark Horse CPA, you'll receive a web-based fact finder and encrypted link to upload your statements.
Once we gather your financial information, we'll schedule and conduct a virtual discovery meeting to learn about your values and prioritize your goals.
At the end of the meeting, we'll determine which service model is most appropriate for your objectives.
Next, you'll receive an engagement proposal outlining the scope of work and our transparent fee agreement. You can review/sign electronically and we're off to the lab to get started on your custom plan.
Getting Your 'One of a Kind' Plan Dialed
Who – Dark Horse Private Wealth Team
This is where we combine the art and science of getting your financial life highly organized and optimized.
You've met with your advisor to establish what you want your future life to look like. Now our team will backcast a set of actions that are necessary in the present to accomplish your future goals.
We'll utilize multiple cutting-edge fintech tools to analyze your current path, test for inefficiencies and identify optimal solutions/strategies to help get you where you want to be.
The resulting plan will be dynamic, clear and concise - designed to help you make informed decisions.
The Expertise & Advice You Need, All In-House
Who – Dark Horse CPA & Private Wealth Team
By utilizing all the services Dark Horse has to offer, you'll benefit from objective advice and a personal connection to a multidisciplinary team devoted to your success.
The Dark Horse Private Wealth Team has completed your version 1.0 plan. Now it's time to send it to quality control under the discerning eye of your Dark Horse CPA.
True COLLABORATION between your professionals integrates all aspects of your financial life into a comprehensive, actionable plan. Both teams join forces to fully understand how various decision points will impact your tax liability and uncover any additional tax savings opportunities.
Your version 2.0 plan is now ready to be presented and we'll reach out to schedule a virtual meeting to review it.
Recommendation, Implementation & Monitoring
Who – You and Dark Horse Private Wealth Team
This is an interactive session where we distill the hundreds of pages of analytics down to a dozen or so action items and walk you through these three steps:
1) We'll present you with recommendations across all areas of your financial life, from investments to insurance to legacy planning… the list goes on.

2) We'll review a planning calendar that outlines all activities to be completed over the next twelve months.

3) You'll be given login information to your own personal Dark Horse website and app, where you can track your plan progress and investments daily (if you so choose).
We approach wealth management as an ongoing, dynamic process and will assess your situation on an ongoing basis. At Dark Horse, we promise to serve your family for decades to come and will continually support your financial success through scheduled and on-demand check-ins so you can focus on what really matters in your life. And every year, this step of the process matures as we grow together.
It Really is a No-Brainer
Reach out for a free consultation.